Card of the Day for Friday, September 21st 2012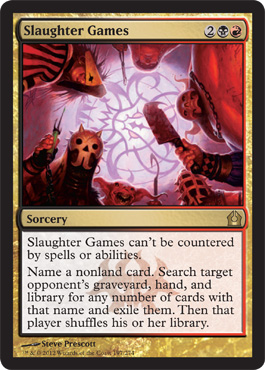 Card Name » Slaughter Games
Mana Cost » 2BR
Expansion » Return to Ravnica
Type » Sorcery
Card Text » Slaughter Games can't be countered by spells or abilities.
Name a nonland card. Search target opponent's graveyard, hand, and library for any number of cards with that name and exile them. Then that player shuffles his or her library.
Rulings »


Legal in » Vintage, Legacy, Commander, Extended, Standard, Modern

Gren's Thoughts » One of Rakdos' other interesting cards. This would be the answer to my deck if I ran it, and the answer to most, if not all, blue combo decks. It can't be countered, so really, there is very little stopping it. It's also a very good answer for Eldrazi that won't go away. I like it, it's cheap for what it can do, and I'm sure it would see plenty of play.

Art » Creepy guild members are creepy.

Notes » Week 3 of RTR spoilers!