Card of the Day for Tuesday, September 18th 2012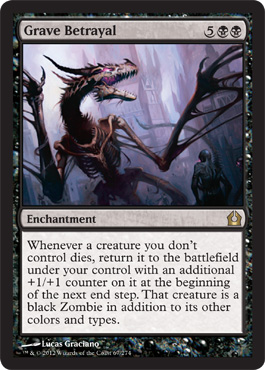 Card Name » Grave Betrayal
Mana Cost » 5BB
Expansion » Return to Ravnica
Type » Enchantment
Card Text » Whenever a creature you don't control dies, return it to the battlefield under your control with and additional +1/+1 counter on it at the beginning of the next end step. That creature is a black Zombie in addition to its other colors and types.
Rulings »


Legal in » Vintage, Legacy, Commander, Extended, Standard, Modern

Gren's Thoughts » For an enchantment, and for what it dies, it looks like a really fun Johnny card, especially when you combine it with field clearing spells. I like it for commander, casual, or even legacy. I don't think it will get that much use it the current format, however.

Art » That art looks familiar.

Notes » Week 3 of RTR spoilers!