Previously, you all voted for the cards from Return of the Duelist that you missed. This new card was voted possibly for her awesome ability, but most likely because she makes people's eclairs stale. Also, she has a fork - this is
Madolche Magileine.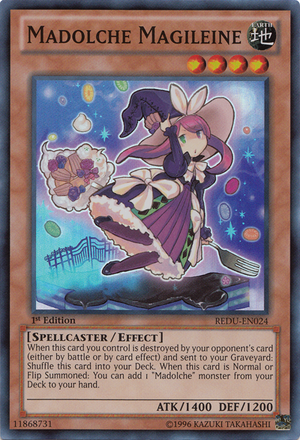 Quote
EARTH Level 4
[Spellcaster/Effect]
When this card you control is destroyed by your opponent's card (either by battle or by card effect) and sent to your Graveyard: Shuffle this card into your Deck. When this card is Normal or Flip Summoned: You can add 1 "Madolche" monster from your Deck to your hand.
ATK/1400 DEF/1200
Madolche Magileine is the quintessential card of every Madolche deck, being able to poke and nab any Madolche monster from your Deck, even itself. Of course, Magileine carries with it the tasty filling of its Madolche ancestors, making it return to the Deck when it gets destroyed.
Now, generally, having your monsters go back to your Deck is bad, since your deck gets chubby. (Okay, I just totally realized that Madolches "fatten" your Deck. And they're candy, which has sugar, which, when eaten in excess, makes you tubby. Get it??) Madolche Magileine counters this weakness of the Madolche deck, since she'll grab your Madolches right back from their pseudo-Graveyard.
Magileine grabs other copies of herself though, letting you have a
sexy
tea party. As long as you have one in your hand, you can keep bringing them to your hand and summoning them to stall opponents' attacks. You can escalate this ability by using Magileine with Ultimate Offering, allowing you to summon 3 Magileines in a turn, and a Butlerusk to grab Madolche Chateau from your Deck. In total, you'll get a plus of 4 for a 2-card combo. From there, you can Xyz your monsters for more fun, into monsters like Alchemic Magician or double Maestroke the Symphony Djinns.
Magileine suffers one fatal weakness as compared to other searchers like Elemental HERO Stratos and Machina Gearframe: her ATK is a measly 1400. Of course, you can use Madolche Chateau to boost her up to a nice 1900, putting her on-par with the enemy of all searchers - Thunder King Rai-Oh - but this shortcoming shouldn't be ignored.
That's about all for Magileine. She's the bowl that supports the ice cream sundae - simple, but necessary.
Usability: 10/10, can't have yer Madolches without yer Magileines!
Art: 10/10, she's no Puddin'cess, but I'd fork that till next month.
Oh, also, voting is still open for the rest of the week. With 2 votes each, the current fronttunners are:
Silver Sentinel
Alchemic Magician
Fairy King Albverdich
Number 91: Thunder Spark Dragon
Soul of Silvermountain
Noting, you can vote for up to 5 cards. You can view the previous COTD for cards that received 1 vote.