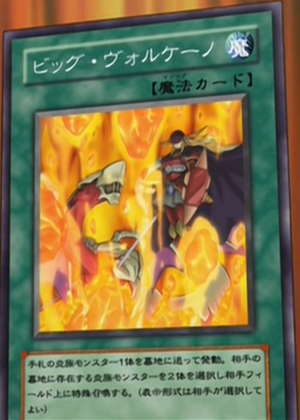 Friday April 6, 2012
Quote
Big Volcano
Group: Spell Card
Type: Spell
Icon:Normal
Send 1 Pyro-Type monster from your hand to the Graveyard. Select 2 monsters in your opponent's Graveyard and Special Summon them to your opponent's side of the field. (Your opponent chooses their Battle Positions).

Notable Rulings:
-N/A
What, this puts you 2 cards and gives your opponent 2, what are you thinking son?
Not something you expected huh? From hence forth, I declare Fridays "Freaky Fridays" (I know not very original). Fridays will be a day where you can explore your inner creativity and bring something new. Fridays will feature OCG (Official Card Game), CCG (Created Card Game), and others you won't expect (It might still include current cards, but it won't be what you expect). Your mission: Discuss this cards effect and how it could affect todays game, or post some interesting combos.