Card of the Day for Wednesday, April 11th 2012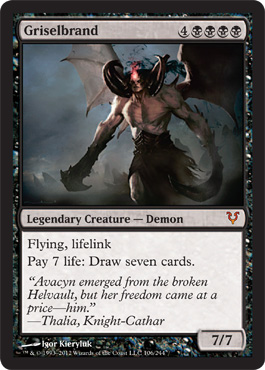 Card Name » Griselbrand
Mana Cost » 4BBBB
Expansion » Avacyn Reborn
Type » Legendary Creature - Demon
Card Text » Flying, Lifelink
Pay 7 life: Draw seven cards.
Rulings »


Legal in » NYR

Gren's Thoughts » HAHA oh wow. Looking past the summoning cost, he's pretty baller. 7 life to draw cards? Oh wait, I can get that back with Griselbrand's lifelink. Seriously, a 7/7 flyer with lifelink and a 7 card draw ability (especially with shit that works with stuff in your grave), yeah I like him more than Avacyn. Cheat him into play for full potential.

Art » Now THAT'S a demon.

Notes » Week 1 Spoilers begins for AVR. This set is going to be creamy.