CARD OF THE DAY
With blessings from Setever, I decided to revive the "Card of the day" around here. Instead of dedicating a entire section to it (and Lord knows why a certain someone killed it completely), here's a somewhat small-scale version of the thing. It'll have one card each from both TCG/OCG on a per day basis, selected through a particular method which I still have to work out coz I sure as hell don't want selections to be COMPLETELY random. :P But anyhow, as done before......it will involve you peeps posting your comments/ratings on each card, assuming I can make em interesting enough for you to take a gander at them everytime.
So with all said and done, lets start out with these 2 lovelies:
TCG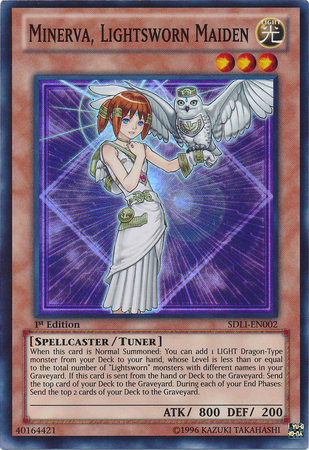 Minerva, Lightsworn Maiden

 

Spellcaster/Tuner/Effect

 

When this card is Normal Summoned: You can add 1 LIGHT Dragon-Type monster from your Deck to your hand, whose Level is less than or equal to the total number of "Lightsworn" monsters with different names in your Graveyard. If this card is sent from your hand or Deck to the Graveyard: Send the top card of your Deck to the Graveyard. During each of your End Phases: Send the top 2 cards of your Deck to the Graveyard.
A searcher, a tuner and an LS. Works nicely in pure LS builds, not so much in other variants but still useful. It was originally released with the intent to utilize the LS synchro (Michael the Arch-Lightsworn) and to also bring out Judgment Dragon much faster.
OCG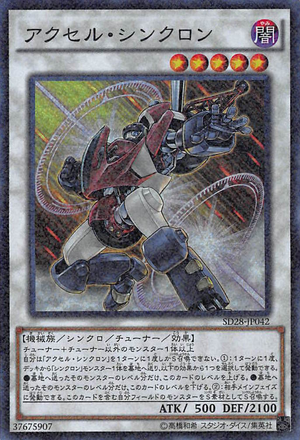 Accel Synchron

 

Machine/Synchro/Tuner/Effect

 

1 Tuner + 1 or more non-Tuner monsters

 

You can only Synchro Summon "Accel Synchron" once per turn. During your opponent's Main Phase, you can: Immediately after this effect resolves, Synchro Summon using this card you control (this is a Quick Effect). Once per turn: You can send 1 "Synchron" monster from your Deck to the Graveyard, then activate 1 of these effects;

 

● Increase this card's Level by the Level of the monster sent to the Graveyard by this effect.

● Reduce this card's Level by the Level of the monster sent to the Graveyard by this effect.
Welp synchrons are back again, somebody go call Sho-Shinjo! :P
A synchro summoned tuner, much like formula synchron.
Can easily manipulate level depending on what synchron you send from deck, and not sure if I'm reading this correctly but it also says that you could use this card to synchron summon............in your opponent's turn.
.....
DAT ABUSE! x___x
But yeah, it just came out over a month ago on OCG, so kinda undetermined how soon we'll be facing this thing in our format. (inb4 insta-hit)
________________________________________________
http://yugioh.wikia....ghtsworn_Maiden
http://yugioh.wikia..../Accel_Synchron
Edited by Bardon, 29 January 2015 - 04:43 AM.