Fire Fists may not have Chicken yet, but Spirit has reason to rejoice with this new LTGY release!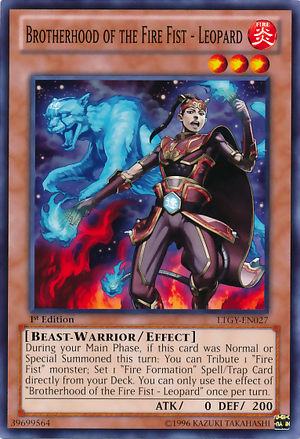 Quote
FIRE Level 3
[Beast-Warrior/Effect]
During your Main Phase, if this card was Normal or Special Summoned this turn: You can Tribute 1 "Fire Fist" monster; Set 1 "Fire Formation" Spell/Trap Card directly from your Deck. You can only use the effect of "Brotherhood of the Fire Fist - Leopard" once per turn.
ATK/0 DEF/200
Brotherhood of the Fire Fist - Leopard
is an irregular among the Fire Fists, with zip ATK and Level 3. In the turn she was summoned, Leopard allows you to tribute a Fire Fist to conjure a Fire Formation from the Deck and set it. Leopard calls highlander on her effect.
As a Fire Fist, Leopard has access to their searchable searcher Tenki, meaning she's incredibly easy to grab out. While she may not have much to say about Tenken or Tensen due to her low ATK, she uses Tensu just fine, allowing the player to Normal Summon a Fire Fist to immediately replace her, if you tribute her for her own effect. Spirit comes in nicely here, since he'll revive Leopard to Synch into Horse Prince and call out another monster from the deck.
Leopard has the blessed FIRE Beast-Warrior typing, letting her be summoned by Onslaught of the Fire Kings. While her effect is negated, you will be able to get her in the Grave immediately for Spirit to grab her. She also has 200 DEF, meaning Rekindling and Flamvell Counter are good friends of hers.
Leopard is a searcher for the deck, plainly said. They may not seem to need her with Bear and Gorilla, but the ability to do so in the Main Phase is actually quite crucial and enables the deck to make choices with cards like Gyokkou. The fact that she's reusable by Spirit is what enhances her to a competitive level. Lion Emperor can be made to continuously abuse her, or Horse Prince to nab other cards from the deck.
Deck-wise, Leopard's only home is really Fire Fists, albeit there are many variants to choose from there. Though, since she'll just grab any Fire Formation, she can be used in other decks, specifically Fire Kings, to grab their Barongs even faster - since that deck uses Rekindling regularly, she can be helpful Grave fodder later. To some extent even, Koa'ki Meiru decks could make use of her.
Leopard is, of course, a very weak FF monster. The weakest, in fact. This means that, even with a full Tensen boost and Forbidden Lance, she'll only beat out a few monsters in battle. Thus, she needs to be played and tributed early on.
Leopard covers a niche role in Fire Fists as their only true Formation searcher.
Of course, Veiler will stop Leopard dead in her tracks and leave her heavily vulnerable. All-in-all though, using cards like MST to destroy whatever she searches out is probably the better play, since you can ensure that card is no longer in your opponent's deck.
Overall, Leopard gives Fire Fists a new way to play, and a possibly more consistent one and colorful one at that. Expect to see it in some pure Fire Fist builds this format.
Usability: 8/10, good, slow-ish, and vulnerable, but great at building advantage
Art: 5/10, there are more interesting Brotherhood arts, IMO
Meta: 2/3, if pure Fire Fists (not the bullshit that runs 2 Bears and 2 Gorillas and calls itself Fire Fist) see some real play this format, they'll be using this card.