This card is worth 160 dollars. Enough said.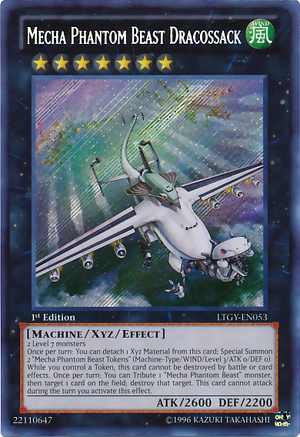 Quote
WIND Rank 7
[Machine/Xyz/Effect]
2 Level 7 monsters
Once per turn: You can detach 1 Xyz Material from this card; Special Summon 2 "Mecha Phantom Beast Tokens" (Machine-Type/WIND/Level 3/ATK 0/DEF 0). While you control a Token, this card cannot be destroyed by battle or card effects. Once per turn: You can Tribute 1 "Mecha Phantom Beast" monster, then target 1 card on the field; destroy that target. This card cannot attack during the turn you activate this effect.
ATK/2600 DEF/2200
Mecha Phantom Beast Dragossack
is the WIND Rank 7 trump Machine of the new Mecha Phantom Beast archetype. With generic requirements and 2600 ATK, he has the ability to unleash 2 Level 3 Tokens with 0 stats at the cost of 1 Xyz Material once per turn. If a Token is around, Dragossack has a built-in immunity to destruction. Once per turn, he can tribute a Mecha Phantom Beast to pop 1 card on the field, but he loses his attack for the turn.
As a Mecha Phantom Beast, Dragossack can make usage of their card Do a Barrel Roll to keep himself safe from any rogue cards like Dimensional Prison that might kill him. His effect can be used in tandem with Scramble!! Scramble!! to net more Phantom Beasts to go for more Xyz Summons. If you should run out of Tokens to protect Drago, Vertical Landing will let you change in one of your non-Token Phantom Beasts for a Token, keeping Dragossack and any other monsters you might control safe from Torrential Tribute and Dark Hole.
Since he's a Machine, Dragossack has Limiter Removal for a best friend. Since you can use it first, then summon Tokens, you'll have a 5200 ATK monster for as long as you have Tokens up.
Dragossack can be used in several different ways. Of course, he brings advantage to the field, and with just him out you can summon a card like D-HERO Plasma. The Tokens could be amped up with cards like Token Stampede. Dragossack also functions as a stall card/safe beatstick, being almost unkillable. Depending on the circumstances, he may function like a less-invincible Spirit Reaper. More importantly though is his 1-for-1 ability. He can tribute his own Tokens, so you're barely paying half-for-1 to get rid of an opponent's card. He's essentially like Scrap Dragon in that regard, except he supplies his own fodder. All-in-all, he's intended at gaining advantage and pressuring the opponent to use all they have to get rid of him.
Dragossack's natural usage is in Mecha Phantom Beasts, since they can reach Level 7 with extreme ease. There are many other decks that can use Dragossack though. Karakuris can easily summon a duo (or trio) of Bureis, and they'd certainly love the 2 Synchro fodder Tokens. Mermails churn out Megalos and teuses without any effort, so Dragossack may be appropriate if your OTK fails or you need to get rid of a particular card. Machina Fortress can be easily played in doubles too to bring out Drago. Harpies, with their new Harpie Channeler, can bring out Dragossack using Harpie's Pet Dragon as their other material. Most importantly though, Dragossack is the key card in the derpmachine known as Dragon Rulers, being their LaDD summoner.
Mecha Phantom Beast is extremely efficient as a card, though Veiler and co. will stop all of his effects and make him vulnerable, so that's something to watch out for.
As a generic Rank 7, Dragossack goes toe-to-toe with Big Eye for the crown. The two are very, very evenly matched, both being forced to give up their attack to clear an opponent's card, and both provide advantage. Big Eye is more reliant on the opponent having something worth stealing though, so personally I find Dragossack to be the superior of the two. But, they're both so useful, so run both if possible.
Getting rid of Dragossack is terribly easy though, due to his Machine status. System Down will massacre him, and Acid Rain will make his day a lot harder. CyDra will turn him and his Machines into recycled scrap metal for Fortress Dragon. Anti-Token cards, such as Token Feastevil, will help. And, obviously, CED and D-Prison will get him away from the field without destroying him.
Phantom Beast Dragossack is terribly powerful and hard to kill. It's most certainly a trump card, but not at all confined to early or late game. It's something one should definitely be prepared to deal with or face an unkillable Token generator.
Usability: 10/10
Art: 8/10, really nice view of the sea in the background
Meta: 3/3, definitely a meta-definer this format