Yes, yes. Two weeks. I was tired after the Evilswarm thing, so let's skip that, mmkay?
Today's archetype, which will continue through the week (oh joy...), is a platoon of warriors sent from the stars to deal with the Evilswarm threat in Hidden Arsenal 7. This LIGHT-based deck is centered around summoning monsters through extra Normal Summons or Special Summons to enable Xyz summons. The deck also likes to keep its advantage quite high to support its summons. These are the Constellars: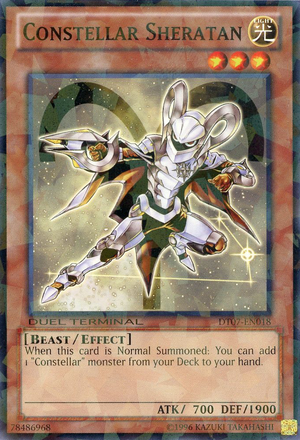 Quote
Constellar Sheratan
LIGHT Level 3
[Beast/Effect]
When this card is Normal Summoned: You can add 1 "Constellar" monster from your Deck to your hand.
ATK/700 DEF/1900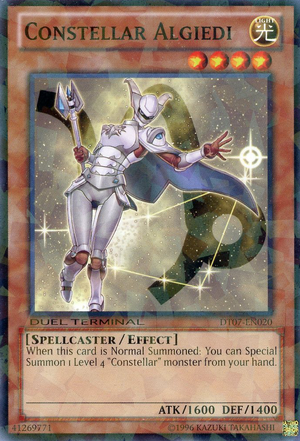 Quote
Constellar Algiedi
LIGHT Level 4
[Spellcaster/Effect]
When this card is Normal Summoned: You can Special Summon 1 Level 4 "Constellar" monster from your hand.
ATK/1600 DEF/1400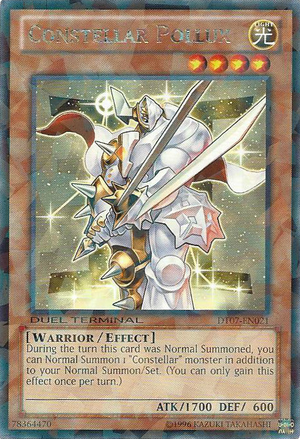 Quote
Constellar Pollux
LIGHT Level 4
[Warrior/Effect]
During the turn this card was Normal Summoned, you can Normal Summon 1 "Constellar" monster in addition to your Normal Summon/Set. (You can only gain this effect once per turn.)
ATK/1700 DEF/600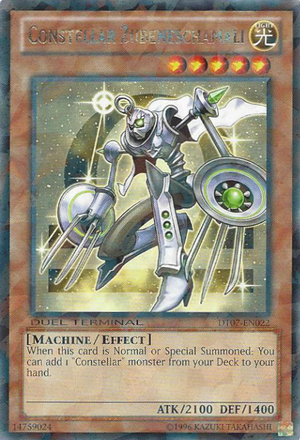 Quote
Constellar Zubeneschamali
LIGHT Level 5
[Machine/Effect]
When this card is Normal or Special Summoned: You can add 1 "Constellar" monster from your Deck to your hand.
ATK/2100 DEF/1400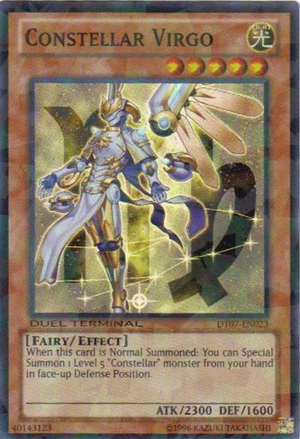 Quote
Constellar Virgo
LIGHt Level 5
[Fairy/Effect]
When this card is Normal Summoned: You can Special Summon 1 Level 5 "Constellar" monster from your hand in face-up Defense Position.
ATK/2300 DEF/1600
All of these monsters are LIGHT ones, meaning they can utilize cards like Honest and Beckoning Light.
Constellar Sheratan is a Level 3 Beast with 700 ATK and 1900 DEF. Upon his Normal Summon, he allows the user to search out a Constellar monster.
Algiedi is a Spellcaster of Level 4 and 1600/1400 stats. When she's Normal Summoned, she'll call out a Constellar from the hand.
Evilswarm Castor's brother, Constellar Pollux, has 1700 ATK to 600 DEF. Being a Level 4 Warrior, it allows the user to get another Normal Summon of Constellar monster during the turn it had been Normal Summoned.
Constellar Zubeneschamali is a Level 5 Machine with 2100 ATK and 1400 DEF. When it's Summoned, it can search out any Consterllar monster.
Virgo is another Level 5. It's a Fairy with 2300 ATK compared to 1600 DEF. If it's Normal Summoned, it can Special Summon a defensive Level 5 Constellar from the hand.
Sheratan's the all-purpose searcher of the deck, meant to grab what you need right away. Playing it effectively though is another story. With a 900 ATK, you'll be wishing you could Normal Summon in Defense Position like in the original series. Sheratan can be used with Ultimate Offering to search out more copies of itself. After getting out three copies of Sheratan, one will have gained quite a bit of advantage and can go into Rank 3 monsters like Constellar Hyades. He's also a Beast, meaning cards like Horn of the Phantom Beast can have good use with him to make more pluses.
Sheratan's obviously Constellar-only, so good luck using him elsewhere.
Algiedi's effect is great for enabling instant Xyz Summoning. She can simply summon another Level 4 to go into Blackship of Corn, but why stop there? Algiedi can summon Constellar Kaus to modulate the Levels of monsters on your field, allowing you to summon Pleides or Volcasaurus. Algiedi can also be played by Pollux, who will summon another Level 4, allowing for a big 3-material Rank 4 like Disigma.
Algiedi does drain your hand, meaning she can be bad if used incorrectly. With a low ATK. she absolutely needs an equal-Level partner to go off, or she'll quickly be run over. She's also susceptible to Maxx "C" and Veiler, which will really upset your day.
Constellar Algiedi cannot really be used outside of Constellars either and her Spellcaster status doesn't give her much support.
Pollux can enable Kaus in a similar manner to Algiedi, allowing Rank 5 summons. Since Pollux affords any kind of Normal Summon, he can be tributed to play your bigger Constellars without waiting an extra turn. With him, Omega can be played instantaneously. He also has the great luck of being a Warrior searchable by RotA. Also, since his effect lingers, he cannot be stopped by being destroyed by pesky Torrentials or BTHs.
Pollux has somewhat low ATK. Though he may not remain on the field long, it makes him less of a standalone card.
Zubeneschamali (try saying that three times fast. Or once). He can be used to keep your advantage alive while still having a powerful card on the field. He can be summoned by using the effects of Pollux or Sombres. Though, his effect will still work if he's Special Summoned, meaning Call of the Haunted or Reborn will work just as nicely, allowing you to grab Kaus and create a Rank 5 monster.
Being a high Level monster is never usually a good thing. While Constellars can play him fairly easily, he still does lose some playability.
Virgo is a card built for getting out Rank 5s. Since she summons another Level 5, she works very similarly to Algiedi in terms of weaknesses and needs. She can be used with Zuben to get it out without tributing and adding a new card to the hand.
Of these cards, Sheratan is crucial to the Constellar deck, being a searcher. Run 3. Algiedi is not so useful and, because Pollux exists, really is inferior. Run 0. Pollux should be at 3. Zubeneschamali is decent but needing a tribute hurts. Still, since he can get his effect on the Special Summon, he isn't so bad - a lone copy is possible. Virgo is too reliant on being Normal Summoned and requires you to run more high Level monsters. I don't see her as being worthwhile.
Sheratan:
Usability: 8/10, really low ATK even for a searcher.
Art: 7/10, not bad, cool helm
Algiedi:
Usability: 6/10, decent but really overshadowed.
Art: 8/10, cool pose
Pollux:
Usability: 10/10, great effect, especially in Constellars
Art: 9/10, awesome sword
Zubeneschamali:
Usability: 7/10, good effect, just hard to use
Art: 6/10, why's he just sitting there?!
Virgo:
Usability: 5/10, eh, really too specific to be used well
Art: 8/10, like the shininess