Hey all! Now we reach the juicy part of our review of the Evilswarm cards, with our look at their key monsters - the Xyzes! Tremble in fear at their might!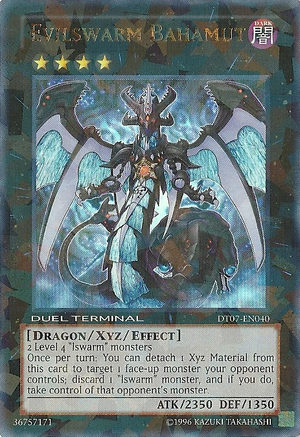 Quote
Evilswarm Bahamut
DARK Rank 4
[Dragon/Xyz/Effect]
2 Level 4 "lswarm" monsters
Once per turn: You can detach 1 Xyz Material from this card to target 1 face-up monster your opponent controls; discard 1 "lswarm" monster, and if you do, take control of that opponent's monster.
ATK/2350 DEF/1350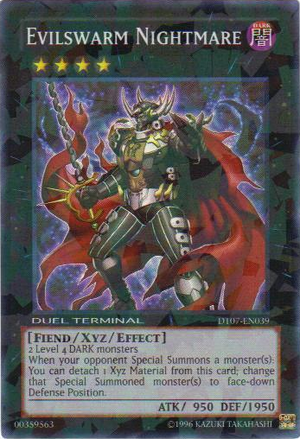 Quote
Evilswarm Nightmare
DARK Rank 4
[Fiend/Xyz/Effect]
2 Level 4 DARK monsters
When your opponent Special Summons a monster(s): You can detach 1 Xyz Material from this card; change that Special Summoned monster(s) to face-down Defense Position.
ATK/950 DEF/1950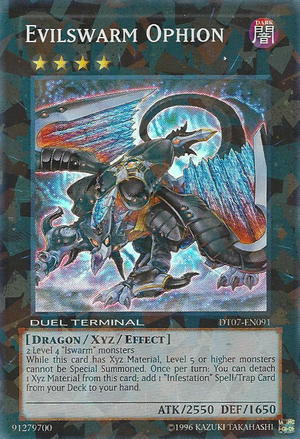 Quote
Evilswarm Ophion
DARK Rank 4
[Dragon/Xyz/Effect]
2 Level 4 "lswarm" monsters
While this card has Xyz Material, Level 5 or higher monsters cannot be Special Summoned. Once per turn: You can detach 1 Xyz Material from this card; add 1 "Infestation" Spell/Trap Card from your Deck to your hand.
ATK/2550 DEF/1650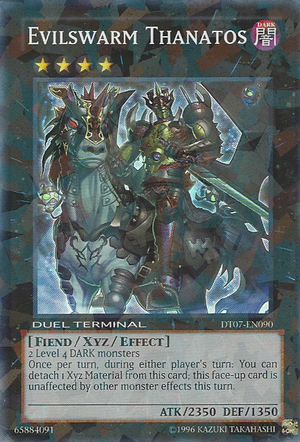 Quote
Evilswarm Thanatos
DARK Rank 4
[Fiend/Xyz/Effect]
2 Level 4 DARK monsters
Once per turn, during either player's turn: You can detach 1 Xyz Material from this card; this face-up card is unaffected by other monster effects this turn.
ATK/2350 DEF/1350
Quote
Evilswarm Ouroboros
DARK Rank 4
[Dragon/Xyz/Effect]
3 Level 4 monsters
Once per turn: You can detach 1 Xyz Material from this card to activate 1 of these effects. Each effect can only be used once while this card is face-up on the field.
● Target 1 card your opponent controls; return that target to the hand.
● Send 1 random card from your opponent's hand to the Graveyard.
● Target 1 card in your opponent's Graveyard; banish that target.
ATK/2750 DEF/1950
All of these monsters are Rank 4 DARK Xyz monsters, if you haven't noticed. They can all be summoned with the help of Rescue Rabbit into a pair of Evilswarm Heliotropes , or by Normal Summoning twice via Castor. Combining Mandragora with another monster will also accomplish summoning these monsters. (with the exception of Ouroboros)
Evilswarm Bahamut is a 2-mat Dragon coming in with 2350/1350. He's summoned with lswarm Xyz Materials only. Once a turn, he can drop a material and the player can ditch a lswarm from their hand to permanently take control of an opponent's face-up monster.
Nightmare's a Fiend requiring all DARK materials. With 950 ATK and a 1950 DEF, he can detach a material when an opponent's monster is Special Summoned to flip that monster facedown.
The Dragon-Type Ophion clocks in with 2550 and 1650 and can only be played with 2 lswarms. His ability allows the user to ditch one of his Materials each turn to search out an Infestation support card. Also, while Ophion has a Material on him, high Level monsters can't be Special Summoned.
Thanatos is a DARK-needing Fiend with 2350 ATK to 1350 DEF, who can lose a Material on either player's turn to make himself immune to monster effects for the turn.
Ouroboros is the king of the archetype, a 3-material generic Dragon with 3 effects that can each be activated one time, at the cost of losing a Material. It can bounce 1 opponent's card, force the opponent to send a random card in-hand to the Grave, or banish 1 card in the opponent's Grave.
Bahamut starts off with decent ATK, though his true power lies in his ability. At the cost of a discard, he works almost like Snatch Steal, since the grabbed monster can attack, be tributed, or be used as Synch/Xyz material. With that kind of freedom, you can choose to use your snagged monster in a variety of ways to respond to the situation. Best, the only requirement the monster must meet is to be face-up!
Being forced to discard an lswarm is somewhat annoying if you don't have any. Thus, this card requires you to have the resources to use it, or you might as well go Ophion.
Outside of Evilswarms, Bahamut can be a possible card in Steelswarms, as they have Level 4s like Gatekeeper. Though, he'll be significantly harder to play in that build, as it is more Tribute-based. He can discard Steelswarm Scout, who'll revive anyway, or a monster to be revived with Infestation Ripples.
Nightmare has especially low ATK, and pretty low DEF as well. Thus, he's more useful as anti-meta for Special Summon-heavy decks. Since his effect can be used twice in the same turn, he can stop decks that rely on their Special Summons, like Wind-Ups or Dino Rabbits, dead in their tracks. Losing those two summons can be very painful. He can be summoned by just about any DARK combination, as there are quite a lot.
Nightmare's stats are especially pathetic though. He can survive a TKRO, but almost any powerful monster will take him out. Also, he's extremely slow and, if you can't take out those flipped-down monsters, your opponent will retain control of the duel.
This card can be used in decks like Inzektors (with Ladybug boosts), with the same purpose. DARK builds of any kind can usually run it. Blackwings can easily go into it with Bora+Shura, and Gravekeeper's Spy will enable it alone. Zombie Master can play it as well.
Ophion's ATK is quite stellar for a Rank 4, being only beaten out by Gem-Knight Pearl. Aside from being a +1, Ophion's effect can be used to grab out your Infestation Pandemic from the deck, making him immune to opposing Traps for a turn so that he can search again the following turn. Also, his ability to block high Level summons makes him a formidable card against this format, allowing him to single-handedly disable Abyssmegalo and Garunix. It'll also stop other viable but less-used decks, like pure Lightsworn, Chaos Dragons, Dark World, and Synchro-based decks. Since Ophion just needs a material to hold back high Levels, Xyz Reborn is especially powerful with him, since it can be chained to force cards like Abyssmegalo to be unable to hit the field.
Ophion really has no noticeable flaws in him. Being a strong searcher and tempo killer, he's arguably the best card in the archetype. Maybe higher DEF.
Ophion can be used within Steelswarms, as Bahamut can be. Though, he's probably more useful since he can grab Infestation Pandemic. Considering Steelswarms are deeply afraid of losing their Tribute Summoned monsters, Ophion can help alleviate their fear. First Step Towards Infestation can also help with this, and allow another plus.
Thanatos has decent ATK, and his effect is quite useful against decks like Fire Kings and Mermails, since they usually have monster effects to destroy cards. Dark Worlds will also have a somewhat difficult time with him too. Inzektor Hornet will be helpless too. Being able to activate on the opponent's turn is especially great.
Thanatos does, of course, suffer from being vulnerable to everything else. Pandemic can make the card near-invincible for a turn though.
He has the same ways of being used alternatively as Nightmare, though he is less of a counter choice, since he doesn't actually slow down the opponent.
Ouroboros' effects can be particularly powerful, since he can hit the opponent on multiple levels. Whether it's dismantling Zenmaines, violating Grapha, or making Exodia die, the card has a myriad of uses for different situations, making him comparable to Shock Master in some respects. He can be summoned by comboing Mandragora with either a Castor double summon or a Rabbit. Not especially hard. Since he can bounce cards, he can be very useful against any deck that likes to Xyz or Synchro Summon. Banish-wise, he can harm Dark Worlds, Lightsworns, and Wind-Ups. His "discard" is great for just about anything else, since it's an auto-1, and is a good play in most situations.
Ouroboros suffers from only being able to use each effect once. While some may be abusable otherwise, it makes his anti-meta nature towards certain decks a one-time shot, making Shock Master a competitive alternative against other decks. Of course, he's also a 3-material monster, meaning he's a harder loss to deal with.
Ouroboros can be used in any deck that can go triple Rank 4. Inzektors are capable of this with a decent set-up, as well as Hunder decks. Harpies and Six Samurai can easily swarm with their Trap cards to build a force of possible material.
Bahamut is a quite good card, albeit a one-off due to his effect being sometimes difficult to use. Play with 1-2 copies, I suggest 1. Nightmare isn't bad but generally very slow and hopeful on the opponent not being able to overpower him. Run 1 if you want as a Side in the Extra, though it's not an all-together needed card. Ophion is extremely needed in Evilswarms. Run 2, because of deck constraints, though you'll be using it in over 95% of games. Thanatos is not very useful if you want to expand really and provides no real advantage in himself. Run 0. Ouroboros is great, but it must be remembered that he needs 3 monsters. Thus, run 1 alongside Shock Master to cover all your bases.
Bahamut:
Usability: 9/10, pretty damn annoying to lose your Garunix
Art: 10/10, fucking love dark Brionac
Nightmare:
Usability: 7/10, actually very decent, but he should be more offensively-based, like Roach
Art: 8/10, Boggart Knight's not looking bad either. The horns combo well.
Ophion:
Usability: 10/10, best card in the deck, and one of the best Xyz monsters IMO. S/T searching, wut?!
Art: 7/10, I keep thinking the tail is the head o.o
Thanatos:
Usability: 6/10, too concerned with himself to be part of an archetype
Art: 10/10, omgHelioonUnicore! Love that pose.
Ouroboros:
Usability: 8/10, mixes with Shock Master sometimes, but with support cards backing him up he can very often be the better option
Art: 8/10, great looking monster, though the pose isn't as cool as Trish's