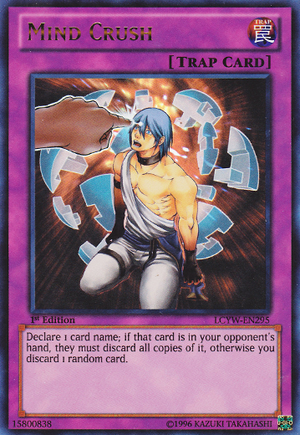 Quote
Mind Crush
Normal Trap
Declare 1 card name; if that card is in your opponent's hand, they must discard all copies of it, otherwise you discard 1 random card.
Mind Crush is a Normal Trap allowing the user to name one card and look at the opponent's hand. If that card(s) is there, it's discarded, but if it's not, the user must randomly discard a card.
Mind Crush was freed from the banlist this format, going from 2 copies to 3. The card has shifted on the list several times in the past, being initially Limited in March '07, then Semi'd in March 2009. And, then Limited again a year later, only to be Semi'd in September '11. And now, finally, it is out.
Mind Crush's particular use is obviously in killing the opponent's hand before they can get a move out. This makes it extremely effective against search-based decks like Gadgets and Exodia builds.
In this format though, Mind Crush is especially effective. Mermails, with their use of Abyssmegalo, Dragoons' search, and Abyssteus, tend to tip their hand a little bit. With Mind Crush able to pounce, a player can be sure to hit those cards early on.
Mind Crush is more important against Spellbooks though, which tend to search multiple times a turn with their Spellbook of Secrets, of the Master, and Spellbook Magician. What's more, cards like High Priestess and SB Life will force the Spellbook user to show their hand even more.
Mind Crush also hits some of the weaker, lingering threats of the format, such as Wind-Ups (Shark & Factory searches, in particular), Geargia (anything searched by Gigant/armor), Exodia (call whatever piece they might have), and Herald Agent (most of their searched cards by Manju/Rites).
Mind Crush, until now, was especially prominent in Dark World builds as a disruption or pre-negation card. Because the deck would use Dragged Down, knowing the opponent's hand was never uncommon. Mind Crush could also be used to trigger Dark World effects, being an effect discard and a Trap Card.
Mind Crush can also be combined with Deck Devastation and Eradicator Epidemic Viruses to essentially go full genocide mode on the opponent, taking most cards out with one swipe and killing the rest after. Spiritual Water Art - Aoi can also be an interesting card to combine Mind Crush with in a Mermail deck to take on all threats.
What's Mind Crush's effect on this format? I think it's a very crucial card, sided or mained, against Mermails and Prophecies, and really anything else that searches too much. It's the hero this format needs and the one it deserves.