As we near the end of the REDU review, we actually get an Xyz Monster with more than 2 materials. Not to mention, this is the cutest card in the set without "Madolche" in its name, so here's
Alchemic Magician
.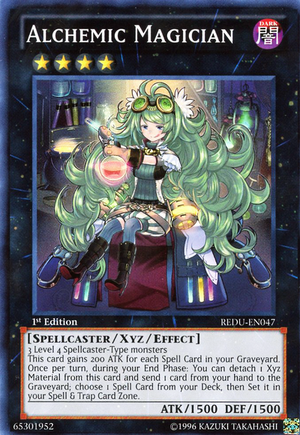 Quote
DARK Rank 4
[Spellcaster/Xyz/Effect]
3 Level 4 Spellcaster-Type monsters
This card gains 200 ATK for each Spell Card in your GRaveyard. Once per turn turn, during your End Phase: You can detach 1 Xyz Material from this card and send 1 card from your hand to the Graveyard; choose 1 Spell Card from your Deck, then Set it in your Spell & Trap Card Zone.
ATK/1500 DEF/1500
This monster's conditions are fairly steep, needing 3 Spellcasters. The card also has lackluster base stats of 1500, though it becomes much more powerful later in the game, gaining 200 ATK for each Spell in your Graveyard. Magician also has a built-in Ancient Gear Drill effect, allowing you to snag any Spell Card from your Deck at the End Phase and put it facedown on your field.
Alchemic Magician is simply very hard to summon. While decks like Wind-Ups and Geargias can summon 3+ Material monsters, Spellcaster decks are typically not very swarm-based. So, the ways of getting Alchemic out are few and far between. Using Summoner Monk to summon another Summoner Monk, and then playing another Spellcaster from your Deck is probably the easiest way to get her out, though it requires 2 Spell cards to spare. Combining Gagaga Magician with Gagaga Girls you summoned using Gagagarevenge is also possible. Magical Exemplar is also viable, as long as you can use 2 Spell Cards to get her going.
Magician's stats can be fueled pretty easily to make her into a powerhouse. Using cards like Upstart Goblin and Spellbook of Secrets to maintain card advantage while filling up your Graveyard will allow Alchemic Magician to overpower almost anything in battle.
Magician's second effect has a couple of uses, depending on how you play it. Of course, you can just set Spells to be used in the next turn. Alchemic Magician can also set your Quick-Play Spells to be activated right away on your opponent's turn, or as protection. You can set Mystical Space Typhoon to clear the field for next turn, Enemy Controller to block your opponent's attacks, or My Body As a Shield to keep Alchemic Magician safe.
An interesting play is to continuously use Heavy Storm with Alchemic Magician, ensuring your opponent will not have cards to stop your attacks. There are cards that will recycle your Storms back into the deck, namely Hidden Spellbook and The Transmigration Prophecy.
So, uh, yeah, Alchemic Magician is very cute and all, but she's pretty tough to get out and the plays with her are too few to make her worthwhile. Not much chemisty here.
Usability: 3/10, even in a dedicated build, this girl is too hard to Xyz Summon.
Art: 10/10, pretty sure she's also underage, but I don't care...