Alright, so, as I just realized, I forgot to do COTD last night. Was doing a project and I knew I'd forgotten something but eh.
Anyhow, I have no idea why this card got so many votes, but here it is by popular demand:
Silver Sentinel
.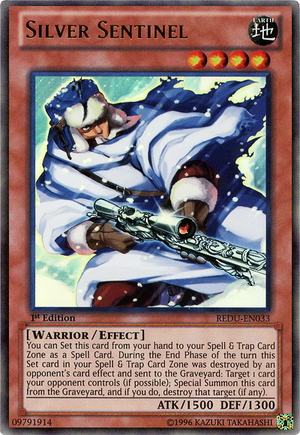 Quote
EARTH Level 4
[Warrior/Effect]
You can Set this card from your hand to your Spell & Trap Card Zone as a Spell Card. During the End Phase of the turn this Set card in your Spell & Trap Card Zone was destroyed by an opponent's effect and sent to the Graveyard: Target 1 card your opponent controls (if possible); Special Summon this card from the Graveyard, and if you do, destroy that target (if any).
ATK/1500 DEF/1300
Silver Sentinel is highly reminiscent of Yugi's Toy Magician, both being cards that can set themselves as Spell Cards in hopes of drawing an opponent's Mystical Space Typhoon or Heavy Storm, then Special Summoning themselves at the End Phase. Sentinel trades some stat power for an added effect, allowing him to destroy 1 opponent's card upon his return.
Sentinel is not the kind of card that gets placed into your Main Deck; it's a surprise card with the purpose of screwing up the opponent - forcing them to not only change their play or risking a crucial card, but also doing a serious minderfk to them. With the possibility of Sentinel creeping in the backrows, your opponent will be afraid to throw their Lyla, Lightsworn Sorceress around. As such, you'll have gained a considerable upper-hand mentally.
Now, you may be asking: Why should I use this instead of another card that activates when destroyed? Maybe something instantaneous like Dark Coffin or Wild Tornado?
Well, annoying person in my head, Silver Sentinel is not just a bogus facedown card - he's a monster. Sure, 1500 ATK isn't the greatest in the world, but it's certainly a better topdeck late-game than a false Trap Card. It also means he's searchable by cards like Reinforcement of the Army and The Warrior Returning Alive. From there, you can essentially feed bad info to your opponent and play mind games with them. If your opponent knows Sentinel is facedown, he/she will be reluctant to use their backrow hate. You can set Sentinel with 1 or more Traps, meaning your opponent is now playing a guessing game. Worse yet, you could keep Sentinel in your hand and set 2 Traps, with your opponent being none the wiser, until it's too late.
Sentinel can be used in decks that, otherwise, have no Spells/Traps. Decks utilizing monsters like Gallis the Star Beast or Sephylon the Ultimate Timelord can't afford to run many non-Monster cards, if at all. Sentinel is a great replacement to fake facedowns and the like, since you really won't have any anyway. Early game it is especially useful, since your opponent won't have realized you're running an all-monster deck. The great thing about Sentinel in game 1 is that you can trick your opponent into siding out all of their S/T cards - meanwhile, you can side into all of your anti-meta cards and roll over them with ease.
A BubbleBeat deck is also able to use Sentinel. Since Sentinel can set itself, it works perfectly with Elemental HERO Bubbleman, allowing you to build up a sturdy backrow and get all of your monsters out of the hand for an onslaught. You can even use Sentinel as a monster to Xyz with your Bubbleman into Heroic Champion - Excalibur.
Another interesting deck to run Silver Sentinel in is Dark Worlds. Generally, running non-Dark World monsters is discouraged in such a deck, but Sentinel has the advantage of being able to put himself onto the field. This way, he doesn't conflict with key Dark World cards like Card Destruction and Dragged Down into the Grave. Coupled with that, he'll act as a lure for your opponent's destruction cards (keeping other necessary cards like The Gates of Dark World and Dark Smog safe). Tertiary, he can just be used for raw attacking power to increase the aggressive power of Dark Worlds.
Of course, Sentinel does suffer in speed. His effect activates at the End Phase, leaving you essentially unprotected. If your opponent is running a deck like Hieratics or Wind-Ups, they'll likely try to use this as an opportunity to kill you off in one shot. So, it's a good idea to have a card like Tragoedia or Gorz, the Emissary of Darkness in-hand to ensure Sentinel has a chance to strike.
Silver Sentinel is a card that requires a bit of thought to use, and it's fairly reliant on the opponent to fall into its trap, otherwise it becomes a dead card on your field. Really, the card is something you'd want to use in a competitive setting, where your opponent will be more fearful of it.
Usability: 6/10, a card that requires a lot of thought and timing. Kudos if you can pull off its effect, but it's nothing more than tech.
Art: 10/10, rejoice everyone! This card wields a gun yet was not censored by Konami. Our prayers have been heard!