Ohai. Today's COTD is 2 cards that are almost the same, in usage and effect. The two Thunder parents:
Pahunder
and
Mahunder
.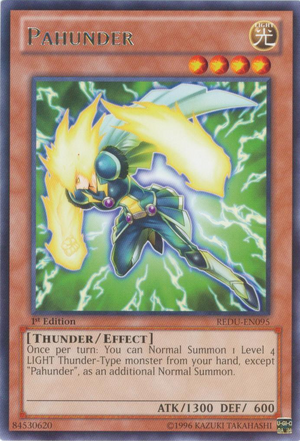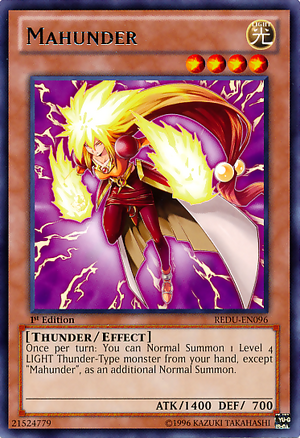 Quote
LIGHT Level 4
[Thunder/Effect]
Once per turn: You can Normal Summon 1 Level 4 LIGHT Thunder-Type monster from your hand, except "Pahunder", as an additional Normal Summon.
ATK/1300 DEF/600
Quote
LIGHT Level 4
[Thunder/Effect]
Once per turn: You can Normal Summon 1 Level 4 LIGHT Thunder-Type monster from your hand, except "Mahunder", as an additional Normal Summon.
ATK/1400 DEF/700
So, both of these cards will let you gain an additional Normal Summon, as long as it's a LIGHT Level 4 Thunder that you're summoning. Essentially, this means you can play Thunder King Rai-Oh really easily. It also allows you the ability to Xyz Summon into a monster like Steelswarm Roach or, if you Normal Summon Vylon Prism, you can go into a Synchro monster like Avenging Knight Parshath. Using the two in conjunction will allow you to Normal Summon up to 3 times in a turn, allowing you to bring out Rank 4 monsters like Number 91: Thunder Spark Dragon in a turn. Or, you can Normal Summon Rai-Oh and Xyz Ma and Pa to make Number 39: Utopia, essentially making a pretty good search, attack, and (inherent) summon lock.
Now, of course, these two work well with a lot of LIGHT support. Using a card like Shining Angel will allow you to Special Summon one of your hunders to use their ability on the following turn. Beckoning Light will allow you to abuse the pair, so long as you have 2 cards to discard. Honest is obvious. Spirit Converter is a card you can use with the hunder"parents and a summoned Xyz monster to replenish your resources.
Sishunder, their apparent daughter, is also meant to work with them, by allowing the player to grab them from the Graveyard for another go. Pahunder and Mahunder will summon Sishunder, so the cards work with synergy. You can make use of Recycling Batteries to add any of them back to your hand. Thunder Seahorse, which has yet to be released, is excellent with the hunders, allowing great search power and deck-thinning with a small drawback (mind you, a drawback which is mitigated by the ability of the hunders to Normal Summon, rather than Special). Ma and Pa will also be able to make use of Makiu the Magical Mist and Judgment of Thunder, for destruction power.
In a pure Thunder deck, this couple can have fun with Solidarity, making all of them 2000+ attackers that you can easily summon. Shocking indeed. The hunders work great in Watt decks, allowing the player to Normal Summon their key card - Wattcobra. After letting the Cobra go in for a direct attack, and subsequently adding a new Watt to your hand, you can Xyz the two weaker monsters to be safe.
Adversely, the hunders do suffer from their low ATK power somewhat, making them easy targets; essentially, you're gonna have to Xyz them or they'll be gone by next turn. The good thing is, they can be searched and reused very easily. They work great in tandem, so they have the perfect marriage too. And it never loses its spark.
Pahunder
Usability: 7/10, kind of relegated to its own deck, but even then it's only an enabler.
Art: 8/10, cool lightnin', dad.
Mahunder
Usability: 7/10, yeah, she has more ATK, but suffers the same weaknesses as Pa.
Art: 8/10, mom said she'd quit sparking up when the kids were born :/
Oh, and next week shall close off the rest of REDU cards, with 6 cards you wanted but didn't see so far in COTD. You may vote here for your Top 6 Wanted cards by posting.