Ohai. Today's card is a TCG-exclusive released in REDU. This card is the inappropriately named
Advance Zone
.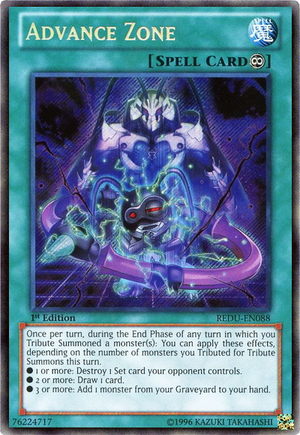 Quote
Continuous Spell
Once per turn, during the End Phase of any turn in which you Tribute Summoned a monster(s): You can apply these effects, depending on the number of monster you Tributed for Tribute Summons this turn.
* 1 or more: Destroy 1 Set card your opponent controls.
* 2 or more: Draw 1 card.
* 3 or more: Add 1 monster from your Graveyard to your hand.
So, I'm sure you're all thinking: Why's this card's name weird? Well, in the OCG (where this card is non-existent), they refer to Tribute Summons as Advance Summons, as of the 5D's-era. The TCG never received this change though (as well as the change from the term "Tribute" to "Release".), and that's why this card is named weird.
Alright, so, what can this card be used for? Tribute Summons, duh! Short and simple, Advance Zone can be fit into any deck that relies on Tribute Summoning, though they will have to sacrifice their access to the recurring Treeborn Frog fodder.
Speaking of Frogs, Frog Decks are excellent at creating field advantage (and Tribute fodder) using cards like Swap Frog and Ronintoadin. Thus, they're ideal for use with monsters like Thestalos the Firestorm Monarch and Obelisk the Tormentor, which need Tributes. Thus, you can summon monsters requiring 2+ tributes without breaking a sweat, and reaping the benefits of Advance Zone each turn.
If you were too lazy to look at the artwork, this card is also meant to be used in Steelswarms. It will allow them to get rid of potential threats and makes summoning Steelswarm Hercules much more rewarding. Still, losing access to Steelswarm Scout, their best Tribute fodder, really hurts their ability to summon in the first place.
Reaching a number of Tributes higher than 1 a turn is somewhat challenging, as you'll want to be getting as much from the card as possible. Using cards like Ultimate Offering are excellent in this case, allowing you to Tribute Summon several high Level monsters by tributing other high Levels. Monsters like the Monarchs will be able to get rid of opposing cards, and allow you to plus at the End Phase.
Better yet, you can "cheat" with Advance Zone and Ultimate Offering, allowing you to draw a card each turn, recycle your monsters, and keep pressure as well as advantage of the hand and field.
Arguably though, Advance Zone is very, very slow. Besides required you to wait until the End Phase, that is. The inability to Tribute Summon several times in a duel, let alone a turn, makes the card subject to deading.
So, is Advance Zone a great card? No, not really. It has a lot of limitations, and comes up short compared to its predecessors: Super Rejuvenation and Tribe and Tribulation.
Usability: 4/10, doesn't really do much necessary and hurts the user by forcing them to not run Treeborn or Scout.
Art: 7/10, the Duel Terminal reference is nigh.