Oh yeah, I'm late today. My brother was hogging the computer since I woke up and that laptop hasn't appeared yet...
Anyhow, I'll do a simple card today that was seen at the WC2012, but one that we're all quite aware of and know, and that card is
Pot of Duality
.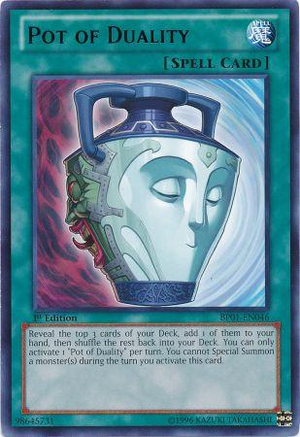 Quote
Normal Spell
Reveal the top 3 cards of your Deck, add 1 of them to your hand, then shuffle the rest back into your Deck. You can only activate 1 Pot of Duality per turn. You cannot Special Summon a monster(s) during the turn you activate this card.
This card appeared first in The Duelist Revolution as a Secret Rare in high-demand. Every deck wanted it for the consistency and choice it provided, at the small cost of a turn without Special Summoning. The card's price ranged upwards of $100. Then, the card was reprinted in the Wave 1 tins in 2011 and everyone who shelled out hundreds for a playset promptly put a bullet in their head. The card was then reprinted as a less-shiny Black Rare in the Battle Pack: Epic Dawn.
Duality is straightforward in what it does. It allows you to thin your deck and grab a card. So, what decks work well with this card? Simple: Every deck works with this card. Some just do it better than others.
Exodia and Final Countdown decks love this card because it lets them to grab their key cards easily (or, if none of those cards are on the top of the deck, they'll grab a drawing/searching card to further empty out their deck). These decks don't really Special Summon on their turn (or at all), so they almost never suffer from the drawbacks.
Anti-Meta decks profit a lot from this card, because it lets them grab their key counter cards quickly. Anti-Meta decks don't Special Summon a lot either, since they usually run cards to counter the opponent's summons. So, one can get their powerful cards like Thunder King Rai-Oh and Doomcaliber Knight without a problem.
Similar to Exodia and Final Countdown, Gravekeeper's generally don't Special Summon on their turn, opting to set Gravekeeper's Spy to make the opponent run into it on the following turn. They make great use of Duality, since they can nab their Gravekeeper's Commandant to add Necrovalley to their hand quickly.
Dark Worlds can also make good use of this card early on in a duel. While they do Special Summon a lot, early in the game they are prone to dead draws of too many monsters/Spells. Duality helps to alleviate this issue by letting them grab a desperately needed Snoww, Unlight of Dark World or Dark World Dealings.
What are Duality's weaknesses? The best way to counter Pot of Duality is to have Thunder King Rai-Oh on the field. Since your opponent can't add cards to their hand while TKRO is around, Duality is useless.
It's important to know how Pot of Duality's conditions work. Particularly the "You cannot Special Summon" condition. What if Duality is negated? If Duality's activation was negated, by a card like Dark Bribe or Solemn Judgment, then you can still Special Summon that turn. However, if Duality's effect is negated by a card like Silent Swordsman LV7, then you cannot Special Summon that turn.
Adversely, what if you attempted to Special Summon in a turn but failed to? Well, that also depends on whether the Special Summoning activation or effect was prevented. If a card like Goblindbergh is summoned and attempts to activate its effect and the activation is negated by Solemn Warning, you can use Duality. However, if it was negated by, say, Effect Veiler, which stops the effect, then you cannot use Duality.
Simply, the game state only recognizes whether a Special Summoning effect was attempted. In the case of a card effect being activated, but not the activation of the effect, the card is recognized by the game state as attempting to Special Summon - even if it was unsuccessful. In the case of the activation of an effect being negated, the attempt at Special Summoning is null and void - officially for the game, it never happened. Be sure to keep this in mind if you're playing in a tournament; it could save you!
Pot of Duality is a very useful card for nearly every deck. Consistency is key, and this card is the definition of consistency.