Card of the Day for Friday, June 15th 2012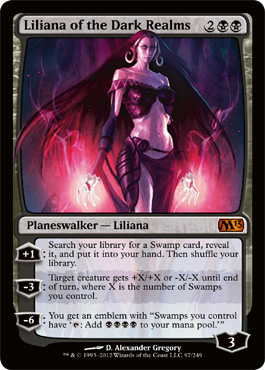 Card Name » Liliana of the Dark Realms
Mana Cost » 2BB
Expansion » M13
Type » Planeswalker - Liliana
Card Text » +1 Search your library for a Swamp card, reveal it, and put it into your hand. Then shuffle your library.
-3 Target creature gets +X/+X or -X/-X until end of turn, where X is the number of Swamps you control.
-6 You get an emblem with "Swamps you control have 'T: Add BBBB to your mana pool.'"
Rulings »


Legal in » Vintage, Legacy, Modern, Commander, Extended, Standard

Gren's Thoughts » First ability, interesting. Gives black a little speed. Second, also interesting, works with the first. The last ability, holy shit. Black being able to mana ramp? I don't know I feel about that. We'll see once M13 hits.

Art » Delicious.

Notes » I'm back! This week is M13 Spoilers.