5D's is still alive thanks to the manga iteration, which is of course, different. Like HEROes in the previous GX manga, Blackwing players expect some miracle to make them cool again. Well, this one isn't exactly a miracle.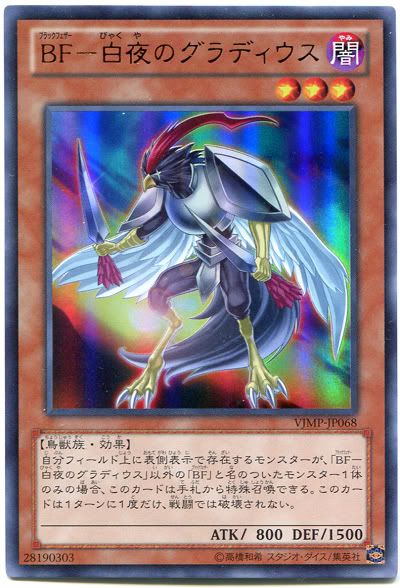 VJMP-JP068 -
Ultra Rare
Black Feather - Byakuya no Gladius (Blackwing - Gladius the White Night)
Dark Winged Beast / Effect
LV3 800/1500
If the only face-up monster you control is a "Blackwing" monster, other than "Black Feather - Byakuya no Gladius", you can Special Summon this card (from your hand). Once per turn, if this card would be destroyed by battle, it is not.
Lore: Dark Evangel of NAC/Pojo
Pic: YGOWikia
NOTE that you can only special summon this card if you ONLY have one Blackwing on your field, making him less of a people person in a archetype that has an option to special summon a lot. Take your pick, he ain't like Gale/Bora and um, he's at the lower level of BW monsters. Have at it. And a reminder for those who do like/want more Blackwings, the newer cards coming out later won't please you guys.