Card of the Day for Friday, April 27th 2012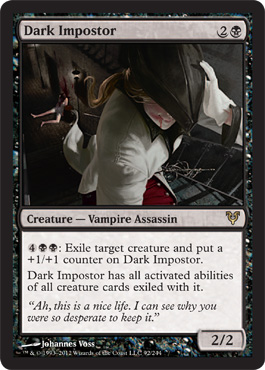 Card Name » Dark Imposter
Mana Cost » 2B
Expansion » Avacyn Reborn
Type » Creature - Vampire Assassin
Card Text » 4BB: Exile target creature and put a +1/+1 counter on Dark Imposter.
Dark Imposter has all activate abilities of all creature cards exiled with it.
Rulings »


Legal in » NYR

Gren's Thoughts » Here's Mr. Pretty Fun Vampire Guy. He exiles things. He also gains abilities from exiled things. Is that an Emrakul? Ulamog? Or is that some pimp commander card? Guess what, he gained abilities of those he removed. He's nice on paper, he'd be fun in casual, but in today's game with the speed of some decks, that ability is mighty expensive and would only serve as a game winner (depending on the creature(s) exiled). His summon cost isn't too bad, but his main ability is expensive.

Art » Vampires wear white?

Notes » Final week for AVR spoilers. Spells, lands, whatever else this week. If I feel like doing a creature, well then I'll do a creature.