Card of the Day for Thursday, April 26th 2012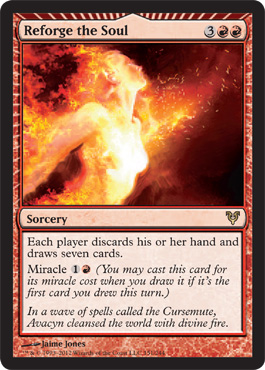 Card Name » Reforge the Soul
Mana Cost » 3RR
Expansion » Avacyn Reborn
Type » Sorcery
Card Text » Each player discards his or her hand and draws seven cards.
Miracle 1R
Rulings »


Legal in » NYR

Gren's Thoughts » Here's something I've been waiting for red for a long time. A little bit of acceleration. Discard your hand and draw seven fresh. Well, if you don't really have much of a hand, bam. Even better, if your hand is empty, you draw this, you can play it for cheap. I like this, and even the normal cost isn't too bad.

Art » That soul is too hot to handle.

Notes » Final week for AVR spoilers. Spells, lands, whatever else this week. If I feel like doing a creature, well then I'll do a creature.