Card of the Day for Friday, April 20th 2012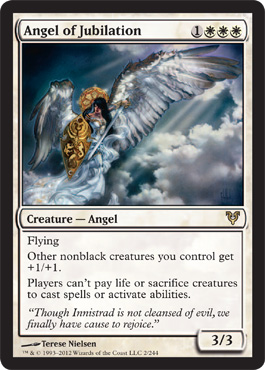 Card Name » Angel of Jubilation
Mana Cost » 1WWW
Expansion » Avacyn Reborn
Type » Creature - Angel
Card Text » Flying
Other nonblack creatures you control get +1/+1.
Players can't pay life or sacrifice creatures to cast spells or activate abilities.
Rulings »


Legal in » NYR

Gren's Thoughts » Here is the answer to Griselbrand's draw power. Here is the answer to BLACK. It shuts down black (and red to some extent) pretty damn well, and you get a nice boost for your other creatures. However, that cost is pretty eh if you run it in multicolor decks. Angels fit in pure white anyway. Pure white decks won't have a problem with this card, but if you wanted to run one of the three "sisters" then this card may not be for you.

Art » THAT ART. <3 Terese Nielsen

Notes » Week 2 spoilers for AVR! Angel week, first three days being the multicolored angels.