Card of the Day for Wednesday, April 18th 2012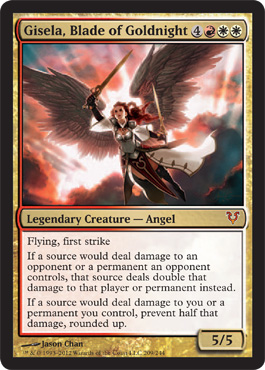 Card Name » Gisela, Blade of Goldnight
Mana Cost » 4RWW
Expansion » Avacyn Reborn
Type » Legendary Creature - Angel
Card Text » Flying, first strike
If a source would deal damage to an opponent or a permanent an opponent controls, that source deals double that damage to that player or permanent instead.
If a source would deal damage to you or a permanent you control, prevent half that damage, rounded up.
Rulings »


Legal in » NYR

Gren's Thoughts » Red, the all and powerful. Furnace of Rath built into a creature. It also doubles as a barrier for either your own spells, or your opponents. Seems like a win/win for me. Splashing red into a white is pretty interesting. Boros anyone?

Art » I like her more than I do the others.

Notes » Week 2 spoilers for AVR! Angel week, first three days being the multicolored angels.