Card of the Day for Monday, April 16th 2012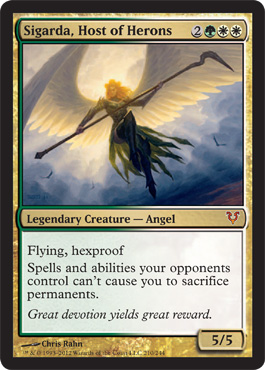 Card Name » Sigarda, Host of Herons
Mana Cost » 2GWW
Expansion » Avacyn Reborn
Type » Legendary Creature - Angel
Card Text » Flying, Hexproof
Spells and abiilities your opponents control can't cause you to sacrifice permanents.
Rulings »


Legal in » NYR

Gren's Thoughts » So, here is the first Multicolor angel that was revealed. 5/5 with Hexproof and Flyer. Mmk, not bad at all. The secondary ability is very good against black and red... and Eldrazi with their annihilator. Overall she isn't terrible, but the other two angels I will be reviewing are way better IMO.

Art » Incoming generic angel response here.

Notes » Week 2 spoilers for AVR! Angel week, first three days being the multicolored angels.