Card of the Day for Friday, April 13th 2012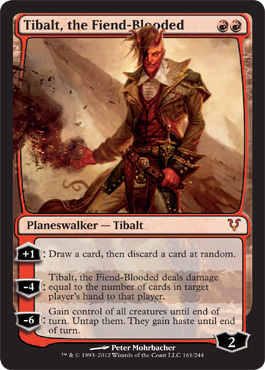 Card Name » Tibalt, the Fiend-Blooded
Mana Cost » RR
Expansion » Avacyn Reborn
Type » Planeswalker - Tibalt
Card Text » +1 Draw a card, then discard a card at random.
-4 Tibalt, the Fiend-blooded deals damage equal to the number of cards in target player's hand to that player.
-6 Gain control of all creatures until end of turn. Untap them. They gain haste until end of turn.
Rulings »


Legal in » NYR

Gren's Thoughts » What a perfect card to do on Friday, the 13th. Here's to our first 2 CMC planeswalker, and what a neat little guy he is! Draw effect is decent enough, at a cost of course. That second ability trounces Timiyo's Emblem, as well as other blue cards that lets you draw cards to no end. It also hurts Griselbrand pretty well. Now, on to the Ultimate. So I get all of your creatures? Very nice. Looks like we have an Insurrection for only 2 CMC at our hands. Keeping this planeswalker out with his low loyalty though, that's the problem.

Art » Intersting. Half devil, half human.

Notes » Week 1 Spoilers begins for AVR. This set is going to be creamy.