Card of the Day for Thursday, April 12th 2012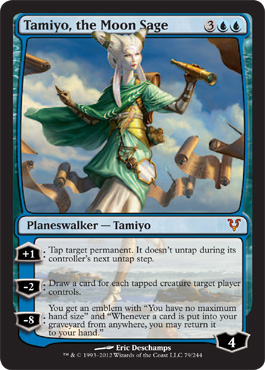 Card Name » Tamiyo, the Moon Sage
Mana Cost » 3UU
Expansion » Avacyn Reborn
Type » Planeswalker - Tamiyo
Card Text » +1 Tap target permanent. It doesn't untap during it's controller's next untap step.
-2 Draw a card for each tapped creature target player controls.
-8 You get an emblem with "You have no maximum hand size" and "Whenever a card is put into your graveyard from anywhere, you may return it to your hand."
Rulings »


Legal in » NYR

Gren's Thoughts » At first I was like, wait... is that a Soratami? Then I was like, BY THE GODS IT IS. I came buckets. But anywho, back to the card. First ability lets you shackle a creature for a turn. Not bad. Second lets you draw a card for each tapped creature your OPP has. Blue is pretty notorious for stuff like that, also not bad. The Ult, however, is pretty decent. This planeswalker, in general, needs support from other cards, but I like that this time cause most planeswalkers are powerful by themselves. This one relies on other cards, which is a different, but interesting approach. With the way blue works, it shouldn't be hard to synchronize with Tamiyo.

Art » I had nostalgia flashbacks to Kamigawa.

Notes » Week 1 Spoilers begins for AVR. This set is going to be creamy.