Card of the Day for Tuesday, April 10th 2012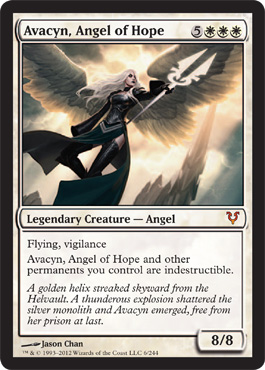 Card Name » Avacyn, Angel of Hope
Mana Cost » 5WWW
Expansion » Avacyn Reborn
Type » Legendary Creature - Angel
Card Text » Flying, vigilance
Avacyn, Angel of Hope and other permanents you control are indestructible.
Rulings »


Legal in » NYR

Gren's Thoughts » An 8/8 flyer with vig, quite costly. But wait, she also gives other creatures indestructibility. Meh, it's ok. I kinda like that green multicolored angel better. I was hoping the main feature would have something a little bit more. Maybe I am missing something, but she doesn't seem that... great. However, she'd make good Commander material.

Art » She does look pretty.

Notes » Week 1 Spoilers begins for AVR. This set is going to be creamy. Guess Tomorrow's COTD and win a cookie.