Card of the Day for Monday, April 8th 2012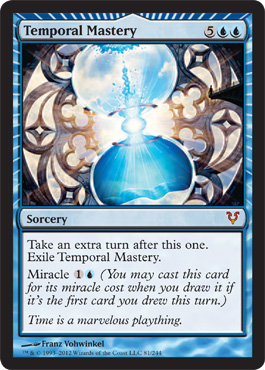 Card Name » Temporal Mastery
Mana Cost » 5UU
Expansion » Avacyn Reborn
Type » Sorcery
Card Text » Take an extra turn after this one. Exile Temporal Mastery.
Miracle 1U (You may cast this card for its miracle cost when you draw it if it's the first card you drew this turn.)
Rulings »


Legal in » NYR

Gren's Thoughts » ...wait, what? This card is stupid... and I mean stupidly powerful. Miracle is a mechanic that is going to be abused with Sensei's and many others. This card is just retarded falling under the same color as them. I can expect this one to be a big chunk of change once AVR hits the stores.

Art » It's an hourglass, I've seen that somewhere before.

Notes » Week 1 Spoilers begins for AVR. This set is going to be creamy.