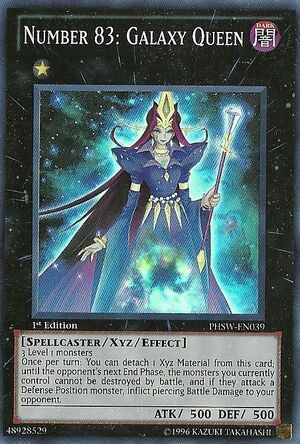 Tuesday January 31, 2012
Quote
Number 83 Galaxy Queen
Attrib: Dark
Type: Spellcaster/Effect/Fusion/Xyz
Level:1
Atk: 500
Def: 500
3 Level 1 monsters. Once per turn: You can detach 1 Xyz Material from this card; until the opponent's next End Phase, the monsters you currently control cannot be destroyed by battle, and if they attack a Defense Position monster, inflict piercing Battle Damage to your opponent.

-Detaching one Xyz Material is an activation cost.
-The effect does not target.
-The "not destroyed by battle" and "inflict Piercing Damage" effects also apply to monsters that are face-down when the effect resolves.
Hey look, it's that mom who wouldn't let her kid play a childrens card game or do anything because people believe that the Sparow is real... Jack Sparrow is such a fraud... just release the Kraken... but not the one Mako used, it's ATK sucks.